"Pregnant women always have a beautiful glow."
I am here to tell you that that statement is FALSE
. Don't get me wrong. I do agree that there is just something about a woman carrying a child that takes them to a whole new level of beautiful, but where do I fall in all of this? For so long I have dreamed about finally being pregnant and how much I would embrace every part of my changing body but I am experiencing something that I DID NOT expect.
My face. Seriously you guys. I feel like shrek. It's swollen and I'm breaking out like crazy! Why oh why? It was already a shock to me when I realized just how bloated my body is (I look 4 months prego already). This brings me to my next point... I was reading
this
post at
Young & Restless
and I thought it was perfect for me. She talks a bit about how women love to point out there negative qualities when they look in the mirror. So true. Her suggestion is that we make a post about what we love about ourselves to break the negativity. GOOD IDEA!
So here goes. I'm not going to list everything I love about myself but I will point out my favorite thing right now....
I love how God has made me - capable of carrying a child. With all the bad and the ugly that pregnancy can cause, I don't
really
mind because the good is well, oh so good. I love my little one so much already and I will take all the changes that come if it's part of my journey to motherhood.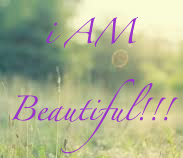 Happy Friday ladies! I hope you can take this weekend to think about how beautiful and great you are too.
Also, if you have 2 seconds, I would love your vote for top baby blogs. The link is in my side bar.