I don't normally write posts like this because I don't feel like an authority on the subject in any way. But hey, why not? These are the things I wear every day, if I'm leaving the house. It's super fast, simple (in my opinion) and makes me feel ready to face the day. And when you're a mom, fast and simple are words that sound really good together.
The four steps in

RED

are the ones I pretty much can't live without. Like when I have one minute instead of three. Yes, there are definitely days like that.
1-

Primer

. I haven't always used primer but I really feel like this makes a word of difference for me. My make-up looks the same at the end of the day as it did when I first put it on. Plus it just makes everything look smoother. I use
this
primer. Now you might be wondering why on earth a 26 year old would need an antiaging product. Actually, that had nothing to do with my choice. I like Korres products because they are made without harmful chemicals. This primer is also silicone free. And the biggest reason, it didn't break me out. Almost anything I put on my skin breaks me out, so I tested a few before deciding on this one. I don't use moisturizer, this is it for me.
Now that I think about it, I actually do think my skin has improved a bit in appearance and texture since I've been using this so, yay for that right??
2-

Foundation

- I have been using Bare Minerals for about 4 years now. I love it. Doens't break me out, matches my skin (which is hard for me) and is easy to apply. The only problem is, this product isn't so great for you. I use
this
website for info on beauty products and to check their hazard rating.
So I am on the hunt for something else.
Suggestions?
3-

Gel eye liner

- I've used several brands over the years like MAC and Bobbi Brown but my all time favorite? Is a $3 version from target.
This
elf liner is da bomb and SUPER easy to apply. Something to keep in mind though.. the film on the top doesn't go on very well. I suggest scraping it off to get to the good stuff. And don't discard the brush that it comes with too fast. I learned that it works pretty well, especially if you're new to gel liner and want to practice a little.
I prefer the winged look, makes me feel a little fancier ;) Also, it hides when I'm not actually wearing mascara (which is often).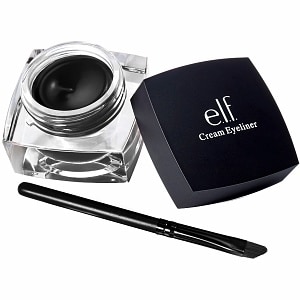 But when I am wearing mascara....

4 - Bare Minerals Buxom Lash Mascara - this stuff is amazing! It really thickens and curls like it promises. What I've found with mascara though, is that each one works differently on different people. So find one you love and stick with that.
5 - Brow Powder. Okay ladies, this one is a big one. I started filling in my brows a little less than a year ago and let me tell you, it makes a difference. I use a super cheap powder because.. it's cheap but it also does the job just fine. Now, (especially) if I don't have time for any of my other steps, I just make sure to enhance the brows and I feel a million times better just with that step alone. Another plus? When my brows start growing in and start looking all sorts of crazy, I just keep thickening my line with the powder and it fools people into thinking their groomed [insert evil laughter]. It's my favorite "trick" in the book.
6-

BLUSH

- I love the color Warm Soul from MAC. It's my soul blush. Really. I don't like to switch things up too much when it comes to my daily routine because then it becomes complicated and harder to actually do it. I've been using this color for years and will continue to do so. As with mascara, find one you love, stick with it and move on.
7 - Lips. I don't always put something on my lips but lately I have two go-to lip products. NYX lipgloss in
Natural
and MAC lipstick in
Dubonnet.
It really depends on my mood ;) But red lipstick has been known to cure my mood on the hardest of days. True story.
Bonus - this is my "bonus" step. I don't do it every day but when I know I'll be taking a lot of pictures or am feeling a bit pudgy in the face (thank you pregnancy!) this stuff makes a world of difference. The studio contouring blush and bronzing powder
here
. I just use the bronzer part.
So those are my steps. It may look like a lot but I promise, it takes me no longer than 3 minutes. Yes, I've timed it. This is what I do most days (although I seem to forget about mascara pretty often). My bio pic on the right hand side of this post and pretty much any selfie on instagram (like the ones below), is a preview of what this simple routine looks like. Nothing wow worthy but it's enough to make me feel like I'm keeping myself together. And sometimes, you just get more done and feel more positive about your day when you feel okay with what's looking back at you in the mirror. That's reason enough for me!
I realize my eyes look a little weird in this pic.. points for posting it anyways?
And here is my makeup routine look with a natural lip plus contouring powder under my cheeks and under my chin. I'm not wearing brow powder in this pic though since I just had them done about an hour earlier. I can tell a difference without it. Can you?
I think the reason why I'm able to get my makeup done so fast and am consistent with wearing it is, I take the time to find what I like and then I don't question it from then on. I like it this way. No fuss and no thinking.