Last week I hit 28 weeks which means my Doctor visits go from once a month to every two weeks. I'm SO excited about that because it reminds me that I'm that much closer to meeting my son. My doctor is great, we couldn't be happier with our decision to switch from the midwife we had originally chosen because I feel
comfortable
with who will be delivering my baby and that's so important. I love that she is all about natural child birth and doing what it takes to help me achieve that. My visit last week was my first time going without my husband. I hated not having him with me but again, I'm comfortable with my Doctor so I was OK with it. Everything looks good except that I need to watch my sugar intake. I was pretty borderline according to my blood test so I'm working on that now.
Symptoms:
Did you know that morning sickness comes back in the third trimester for some women? I didn't! But guess what? Nausea has come back with a vengeance. It might have something to do with the heartburn I'm getting but man, this stinks. My back is still hurting a lot but my sweet husband finally learned how to massage my back without killing me (or his fingers). He even uses coconut oil! Seriously, he deserves an award for this.
Weight Gain:
25 pounds according to my scale at home.... I mentioned
here
that my doctors scale gives me a higher number for my weight sooooo this last visit I asked my doctor if their scale was right and she said she would get it balanced to make sure. HAHA! Maybe it is off, maybe it's not but that made me feel better. My husband thought I was nuts for bringing that up as one of my "concerns" but hey, YOU try seeing your weight jump up 20-something pounds Phillip and see how YOU feel! Haha
My Baby Boy:
I can tell he's grown a ton in the last week because his movements feel very different. They went from punches and kicks to a grinding/sliding sensation. It definitely feels like he's running out of space AND my belly changes shape all the time. At almost any time of the day I can look down and see my belly bouncing and protruding in one area or another. It feels part way bizarre but makes me smile every time.
The Nursery:
We haven't made any changes since our
sneak peek
but I found what I want as art for the wall. My friend is an AMAZING artist and she offered to paint something for the baby's room. I found this painting at a furniture store but it's wayyyy out of our price range so I was so happy when she said she can do it. It's not what you would typically see in a nursery but it's exactly what we wanted.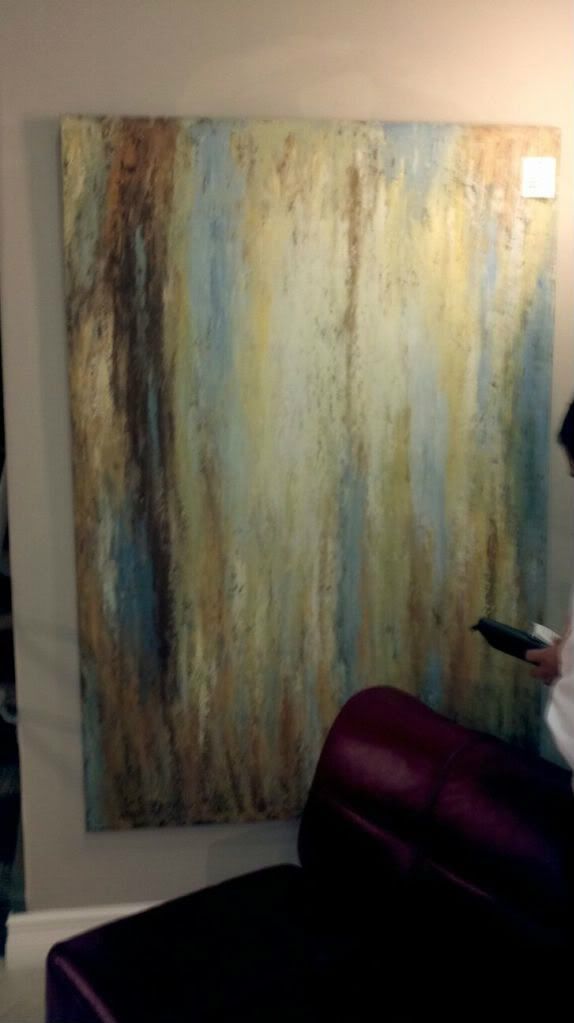 Not the best pic but you get the idea
That's all for now. I hope you all are having a relaxing night!