It's Friday, Friday.... And guess who's back and linking up with Long Distance Loving for Friday's Fancies? This gal right here. It's been a LONG time since I've done this. Not because I don't want to but because I just haven't had the time.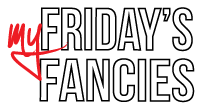 This weeks theme is Summer Sunset. Well... my outfit isn't very SUMMER friendly but I guess I was just going for the c

o

l

o

r

s

?
Make sure to check out the other LOVELY looks on
Long Distance Loving.
Seriously, t
hose ladies just blow me away with their creativity and style.
P.S. I wanted to throw in some yellow nail polish with this look but it just wasn't working out.
P.S.S. My baby is waking up and we have a date today (just the two of us... and my debit card) so I'm off the bloggy clock.